September 27, 2015 Lunar Eclipse Page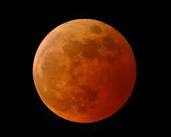 The Supermoon Eclipse is going to start at 8:07 p.m. CDT Sunday night, September 27m 2015, and will end at 10:27 p.m. CDT. The total eclipse starts at 9:11 p.m. CDT and ends at 10:23 p.m. CDT. The Mid-Totality (maximum) will be at 9:47 p.m. CDT. This will be the biggest and brightest full Moon of the year and as an added bonus, it is going to be eclipsed. The supermoon will pass through the shadow of Earth and the Moon will turn shade of red, somewhat like a Copper color. Red is not the only color, though, there is also a blue or aqua colored hue that is created by Ozone. During a lunar eclipse the light that is cast on the surface of the Moon goes through the Earth's Stratosphere. The light that is scattered through the Stratosphere turns a red color. The light that goes through the upper part of the Stratosphere goes through the Ozone Layer that absorbs the red light and makes the light going through this area turn blue. This will show up near the edge of the Moon with the Moon itself being the reddish color. You can see the colors better with a pair of binoculars.
Moonrise and moonset are excellent times to get good pictures of the Moon. The best time is as the Moon is setting. It is hard to get a good detailed picture of the Moon's surface. You have to use a camera that you can manually adjust the exposure. The Moon is very bright and will cause over exposure of your picture. Mobile phones and tablets are not a good device to use in photographing the moon because you cannot adjust the exposure. The same holds true about most low-end digital cameras. You will need a tripod to mount the camera on for stability. Slight movement really shows up when imaging something almost a quarter of a million miles away and you are using slower shutter speeds for the exposure. Using a remote shutter or a timer on the camera gives you much better stability. You will want to use a low ISO-setting on your camera in the range of 100 or 200 so that your shots will be underexposed. It is real easy to overexpose without the proper camera exposure and/or filters. I always use a Moon Filter when observing the moon. For best observing of detail on the Moon's surface it is best to view when it is at a quarter moon or so because a Full Moon will blind you. It is best to use a f.11 setting to limit the light coming into the lens of the camera. But during a Lunar Eclipse you will want to use a smaller f. setting because there will be less light. You have plenty of time during this Lunar Eclipse to make adjustments to the camera settings, so test different settings.
Hope this is useful to you. We are going to be observing the Supermoon Lunar Elipse this Sunday night. The forecast for Sunday night in South Mississippi calls for a 30% chance of showers, so we may have the event obscured by clouds. We can only hope that we have enough breaks in the clouds to watch this event. The next total eclipse of the Moon will be on the morning of January 31, 2018 and us folks east of the Mississippi river we will only see a partial eclipse. So this is the last one for a while that we will be able to see the entire event. I am looking forward to the Full Solar Eclipse on August 21, 2017, though!
Here is a table with the times for the different phases of this Total Lunar Eclipse:
September 17, 2015 Total Lunar Eclipse Time Table for the United States
Time
Penumbral
Partial
Total
Mid
Total
Partial
Penumbral
Zone
Eclipse Begins
Eclipse Begins
Eclipse Begins
Eclipse
Eclipse Ends
Eclipse Ends
Eclipse Ends
UTC
00:11:47
01:07:11
02:11:10
02:47:08
03:23:05
04:27:03
05:22:27
EDT
08:12 p.m.
09:07 p.m.
10:11 p.m.
10:47 p.m.
11:23 p.m.
12:27 a.m.
01:22 a.m.
CDT
07:12 p.m.
08:07 p.m.
09:11 p.m.
09:47 p.m.
10:23 p.m.
11:27 p.m.
12:22 a.m.
MDT
06:12 p.m.
07:07 p.m.
08:11 p.m.
08:47 p.m.
09:23 p.m.
10:27 p.m.
11:22 p.m.
PDT
05:12 p.m.
06:07 p.m.
07:11 p.m.
07:47 p.m.
08:23 p.m.
09:27 p.m.
10:22 p.m.
AKDT
04:12 p.m.
05:07 p.m.
06:11 p.m.
06:47 p.m.
07:23 p.m.
08:27 p.m.
09:22 p.m.
HDT
02:12 p.m.
03:07 p.m.
04:11 p.m.
04:47 p.m.
05:23 p.m.
06:27 p.m.
07:22 p.m.
The people eastern half of the United States will be able to observe the Full Lunar Eclipse. The further west you go, it will become more of a partial eclipse. When you get to the west coast, and especially in Alaska and Hawaii, it will not be visible because the Sun will still be up. People in Western Europe will also have a good view of this Lunar Eclipse.