New Elecraft KX3 HF Transceiver
Elecraft started shipping their new KX3 HF + 50 MHz transceiver on December 27, 2011. This new transceiver runs 10 watts and can run 100 watts with the optional KXPA100 amplifier. This seems to be a full feature rig that will fit into the palm of your hand. It has the same high contrast LCD display like its big brother, the K3. It has all the buttons and dials to control all of the functions.
I am sure that Elecraft has gleaned a lot from the K3 to make its little brother a top-notch transceiver. On Sherwood Engineering's Top Receiver List, the K3 is only topped by the Yaesu FT-5000 among all the rigs that they have tested. There are many converts to the K3. I know of a lot of DXers and especially contesters that have gone to the K3 for their rig of choice. There is no doubt that the K3 is a high quality transceiver and has the 3rd party statistics to back it up. There must be a lot of room for compression to get everything that the new KX3 offers. I will be anticipating Sherwood Engineering's review of this rig. I am sure that it will be well up the list.
The Elecraft KX3 covers the modes SSB, CW, Data (RTTY, PSK), AM, and FM as you would expect. It even has a place under the front panel for optional iambic keyer paddles to plug in. There is no doubt that this rig will get a great following. From a QRP standpoint it would be one of the high end rigs on the market. It will be easy to throw in your suitcase and take it with you on trips. I assume that this is the market that Elecraft is looking at. Even though they do mention it as a good rig for a new ham, I would not suggest this transceiver to a new ham. 10 watts is not what a new ham needs to start out with. They could get very frustrated and lose interest with this being a QRP rig. If you throw on the 100 watt amplifier it would be a great rig to start out with.
Being that the non-solder kit version of the KX3 is $899.95 and the assembled version is $999.95, I really do not consider this a bargain at all. By the time you add the microphone, roofing filters, antenna tuner (only good to 20 watts), Iambic Keyer Paddle, you have added another $489.80 to the cost of this rig. Basically you are sitting at almost $1,500 or more when you include shipping. At this point your are only running 10 watts! I do not know the price of the KXPA100 100 watt amplifier yet, but I imagine it will get your total price somewhere around $2,000 or more.
This appears to have the makings of a great little hand-held rig. Elecraft has gone with the Down Conversion design in their receivers, which is the best methodology to use. You will always have a better receiver with a Down Conversion design, which very few manufacturers use. To compete for the top spots on the receiver list, you must have this design in place to have the best Dynamic Range Narrow Spaced (dB) specifications. To put it simply, you get the best reception with the best rejection. An Up Conversion receiver will never be able to compete with the newer Down Conversion designs.
To sum it up, the guys at Elecraft have come out with another outstanding radio and hopefully there is a niche that will make the KX3 their radio of choice. When you start adding up all of the extras, you run in to a good bit of money very quickly. But there are a lot of people out there that are willing to pay for a premium product, which the KX3 falls in to. It will be interesting to see how this rig does in the marketplace and on the receiver lists.
---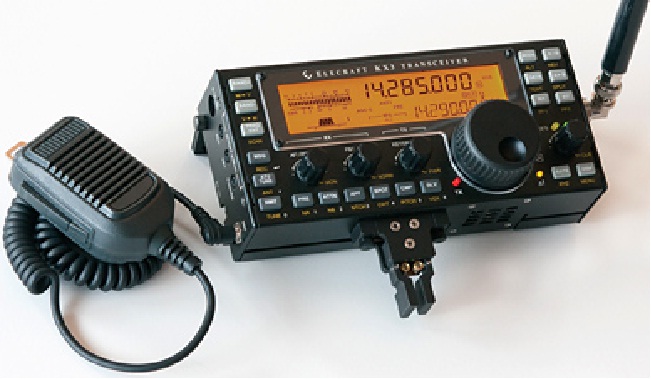 ---
Known Specifications:
Standard Features
160-6 meter ham bands; general coverage from 0.5-30 MHz
All modes: SSB, CW, Data (four sub-modes), AM, FM
Ultra-compact size: 3.4"H x 7.4"W x 1.7"D; 18 oz. (less options)
Rear tilt feet fold up for transport
Custom high-contrast LCD with alphanumeric text display
Internal 8 - AA battery holder
Current drain as low as 150 mA in receive mode
High-performance 32-bit floating-point DSP
Built-in PSK/TTY decode/encode allows data mode operation without a PC; transmit in data modes using CW keyer paddle
Low-noise synthesizer with 1-Hz tuning resolution
Firmware updateable via provided application software
Receiver
Quadrature down-sampling mixer compatible with PC-based SDR (software defined radio) applications
Receiver I/Q outputs for use with PC soundcard
Dual roofing filter option for enhanced dynamic range.(500/1500 Hz analog filters; effective IF b/w of 1000/3000 Hz)
Switchable preamp and attenuator
8-band receive audio equalizer
Dual watch over +/- 15 kHz range; uses applicable roofing filter
Easy-to-use PassBand Tuning (PBT) for shift/width/hicut/locut; roofing filters automatically track DSP filter settings
Automatic and manual notch filtering; adjustable noise reduction and noise blanking; binaural audio effects for enhanced receive
Center-tuning indicator for CW and data modes
Built-in speaker; stereo jack for headphones/external speakers
Transmitter
Adjustable output, 0.1 to 10 W (8 W 12, 10 & 6 M)
(100 W with KXPA100 amp)
Rugged, SWR and temperature-protected final amplifier stage
Optional MH3 microphone with PTT and UP/DOWN functions
Optional attached keyer paddle with spacing adjustment
Switchable PA output impedance for efficient 5-W or 10-W use
Fast, silent, PIN-diode T-R switching - no relays
DSP RF speech processing for excellent 'punch'
8 band equalizer tailors passband to your voice and microphone
Other Features
Built in digital voice recorder (DVR) with two message buffers
Internal CW keyer with 8-50 WPM range
Six CW/DATA message memories
100 general-purpose memories store VFOs, modes, etc.
Computer control via supplied USB cable or optional RS-232 cables
Full remote-control command set works with most amateur radio software applications (emulates Elecraft K3)
One-click firmware upgrades via the web (with free PC software)
Optional mobile bracket compatible with RAM-mounts
Tutorial-style manual ideal for new hams