N1MM Contest Logging Software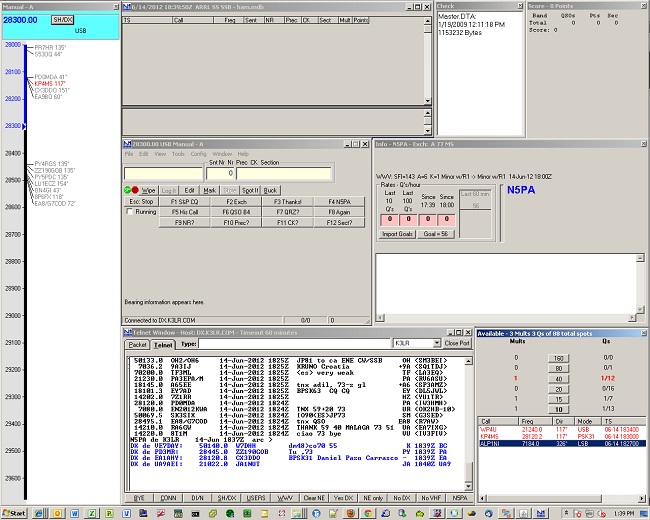 N1MM Contest Logging Software
I have started using N1MM Logger for contest logging over the past few years. I started out using CT and after moving to Mississippi from Oklahoma I tried NA because some of the contesters here were using that. I really wanted a Linux or Windows based contest logging package. I went with WriteLog for Windows and had great success with it. But the ongoing cost of WriteLog every year was getting old, so I took the plunge and started trying N1MM Logger. A lot of the contesters had moved to it and you cannot beat the price, FREE!
I started working with it and figuring out how to integrate it with my computer and radios. Then I started digesting the commands and short-cuts to get familiar with them. I have not been very active lately, mainly due to an Oracle E-Business Suite implementation at work and grandchildren, but N1MM has turned into one of the flagship contesting logging packages. So let's delve into some of the features:
---
All major and many minor HF Contests are supported

Including General DX logging, DXpedition, DXSatellite and VHF DX.

SSB, CW and Digital support
Multi-user support
Rover support for QSO parties and other contests which support this.
VHF and up contesting

Transverter support (SHF bands supported up to 10, 24, 47, 76, 142 and 241 GHz).

Dxpedition mode (Run or S&P)
ESM- Enter Send Message Mode - just press the Enter key to make a qso.
Uses sound card for DVK but also DVK interface for W9XT and other DVK interfaces.
Automatic CW generation (LPT and via USB to serial converter).
Rotator control (Using N1MM Rotor, LP-Rotor or ARSWIN).
Grayline program
Two VFO support when using one radio, with one VFO per Bandmap.
SO2R/SO2V support including $5 SO2R supporting SO2R with just sound cards.
Telnet and packet support - spots from both automatically update the bandmaps.
Winkeyer support (Serial CW keyer by K1EL).
Automatic beam heading and sunrise/sunset calculations.
Contact recording to wav files. Right-click on log entry to play back.

Record level indicator for recording QSOs.

Spot all S&P calls locally (QSYing wipes the call and spots QSO in bandmap).
All major and most smaller RTTY and Digital contests
AFSK and FSK with use of soundcards and terminal units (DXP-38, PK-232, Kam, etc.)
Interfaces with MMTTY, MMVARI, and Fldigi
SO1V, SO2V and SO2R
Up to 4 parallel RX decoding windows using either MMTTY or a TU, all interacting with the Entry Window
Multiplier/Dupe color coding of calls on the fly in any RX window
Ability to find calls in Master.dta file in long strings of text in the RX windows
Multiple call Grab window that displays last 7 callsigns received in the RX window.
Point and click capture of callsigns and exchanges to Entry Window
Ability to complete entire QSO with mouse and never leave the RX window (With ESM turned on)
Up to 24 additional macro buttons
Ability to stack incoming calls and work them off the stack by using a TU/Now macro
Entry Window Window, Log Window, (Packet/Telnet), Score Window Summary, Info Window, Available Mults and Qs Window and the Digital Interfaces
Multiplier window.
Call check function , including N+1 matching
Dual graphical bandmaps click to tune radio to the spot selected. The bandmap can be zoomed in or out depending on number of spots shown.
Available Window keeps track of needed spots and mults on each band for easy band-change decisions. **Color-coded buttons indicate on which bands the current contact is needed.
The program retains the size and position of windows as specified by the user.
Click on packet spot in Packet/Telnet window, Bandmap or Available window to tune to that frequency/mode.
SO2R including Dueling CQ and selectable advanced SO2R modes
Serial number server for SO2R and multi-user modes - coordinates serial numbers between radios.
S&P callsign stacking.
Multi user support with automatic resync on reconnect.
Rotator control
Antenna mapping.
Radio interface supports radios from Alinco, Elecraft, FlexRadio, Icom, Kenwood, Orion, TenTec and Yaesu
LPT port functionality to control antenna switches, radio selection, and PTT (95/98/ME/NT/2000/XP).
Support for microHAM and OTRSP SO2R protocols.
Cabrillo export support.
ADIF import/export support.
Transaction log, which keeps all QSOs to facilitate recovery of log.
Statistical reports.
---
As you can see, N1MM Logger is a full featured contesting software package. It integrates well with my computer and rigs. I still consider myself a rookie with this software so I have a long way to go before I consider myself knowledgeable. But it is always fun to learn a new software package! There are also a good number of third party and other add-on software and hardware packages for N1MM.