Alan Clark, N5PA
Ellisville, MS
***Notice*** I request a SASE for all WAS/VUCC card requests! I receive a lot of cards every day. DX cards are ok direct with a SASE, via the bureau, or I am 100% on LOTW!

I enjoy contesting and DXing. I have operated from several DXCC entities and enjoy going on DXPeditions. If you want to check to see if you are in my station log or contest logs, then click on the "Ham Radio" menu option and enter your callsign under "N5PA Log Inquiry".

I have been a ham most of my life and I am a Life Member of the ARRL. I moved to Jones County from Edmond, Oklahoma in November 1999. I moved to my current QTH just outside Ellisville, MS in April 2007, but I was basically off the air from March 11, 2007 until August 29, 2013, with a few in between. I started over on my DXCC and other awards after getting back on the air in January of 2000. I now have 319 current countries confirmed, 322 total countries confirmed, and 1,602 DXCC Challenge countries and I have my 5-Band DXCC. I have DXCC on 80 through 10 meters and I am mainly working on 160 and 6 meters now. I have my WAS and my VUCC. I live in the Northwest corner of Grid Square EM51jo.

We also have a farm in Southwest Mississippi that is 8 miles North of Meadville, MS in Franklin County. I have a small station set up there and will continue to work to improve it. Most of my operations since August 29, 2013 have been from our farm. It is in the Soutehwest corner of Grid Square EM41no.

I have three main hobbies, Astronomy, Ham Radio, and Weather. I enjoy all facets of astronomy and have learned a great deal from my fellow observers. Whether deep sky objects, binaries, or planets, I always am amazed by the view.

My interests in Ham Radio are mainly Contesting and DXing. My favorite modes are CW and RTTY. I have been on DXpeditions and Contest DXpeditions and feel that contesting makes a better operator, especially during emergency operations.

I have a Davis Vantage Pro 2 Wireless Weather Station and have a lot of fun integrating the weather station with the web page.

Hope to work you on the bands! Good DX! Good Seeing! Clear Skies!


---
---
December 23, 2014 Jones County Tornado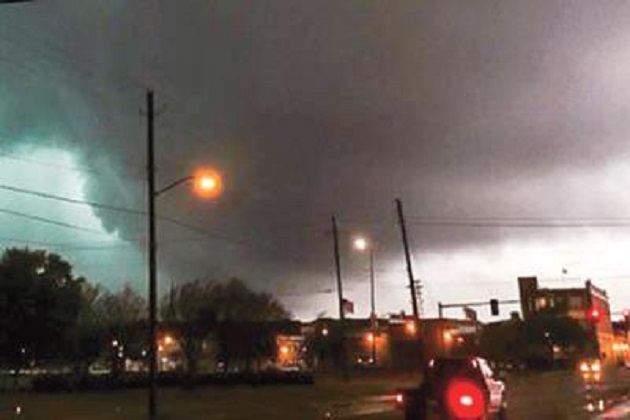 Meteorologists had been predicting severe weather for Tuesday, December 23, 2014 for several days. The prediction was for a slight chance of tornados, but a larger chance of heavy rain, hail, and wind. They were saying that if there were tornados, they would be EF-0 or less in size and no long track tornadoes. It was 70 degrees on the 23rd of December and even though we are 90 miles off the Gulf of Mexico, in the southeast part of Mississippi, this was very warm, especially with all of the rain and instability in the atmosphere. I had seen the tornado warnings earlier in the day in the extreme southwest part of the state and then progress easterly. We heard of the tornado that struck Columbia, MS earlier in the day and that it had killed two people and caused extensive damage. It was not long before the tornado sirens were going off in Jones County and the National Weather Service (NWS) was warning us of a tornado on the ground heading our way. We were here at work and we all went to our "Safe Area" for protection. It was almost totally dark outside as we made our way to our safe room. We had not been in our safe room but a few minutes when the lights went out. The room we were in was not on the generator for emergency lighting. We were given the all clear signal and we exited our safe room to find out that the tornado had passed within a half mile north of our office. We also soon learned that two people had been killed 1.75 miles west-northwest of our office and that the path of this tornado was 5 miles long. The path of the storm was in rural Jones County, Mississippi to the west of Laurel, MS. Had it hit inside the city of Laurel I am sure there would have been more deaths and injuries. I heard that a third person from Columbia, MS died from their injuries from that tornado this weekend. I included a picture of this EF-2 tornado from downtown Laurel taken by Eric Roberts and a link to a YouTube video taken from downtown Ellisville, MS. My wife drove right through the path of this tornado northwest of Ellisville but before it had touched down and she said that limbs and debris were swirling everywhere and really scared her. She was very lucky!
Below is YouTube video of tornado from Ellisville, MS!
---
January 3, 2015 Bay Springs Flooding and Jasper County Tornados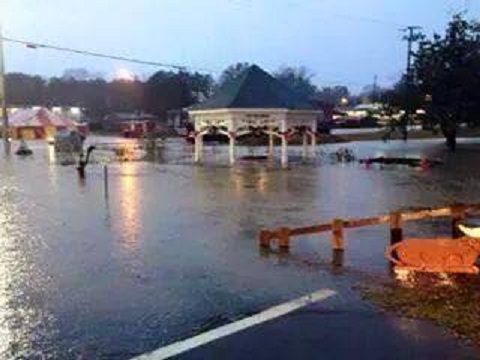 It has been a wild couple of weeks here in Southeast Mississippi. First we had the tornadoes and heavy rain on the 23rd of December that killed 5 people, 2 of them very close to my office. Then on Saturday, January 3rd, we had 4 more tornadoes and more flooding rain. According to MEMA (Mississippi Emergency Management Agency), an EF-2 tornado touched down in Jasper County, the county to my north. Two EF-1 tornadoes blew through Covington County, the county to our west, and an EF-0 tornado went through Lawrence County, about 60 miles to our west. In Bay Springs, about 20 miles north of Laurel, they had between five and six inches of rain. The picture above is the flooding in downtown Bay Springs. The sad part is that they got a lot more rain after this picture was taken. This picture is at the intersections of highways 15 and 18 in downtown Bay Springs. The creeks around here are at flood stage and still rising. The main tributary around Laurel is the Tallahala Creek and it is forecast to crest 6 feet above flood stage around 6:00 p.m. on Wednesday, January 7th. There will be a lot of homes and businesses flooded at that stage between Interstate 59 and old Highway 11. Most of the creeks and tributaries run off of Tallahala Creek, so they are backing up as well. The creek that is about ˝ mile west of our office was just about up to the bridge this morning and I imagine that they will be closing the road in a couple of days for flooding. We went to eat supper in Hattiesburg last night (January 4th) and the Leaf River and the Bouie River were both up very high and the current was very swift.
---