Alan Clark, N5PA
Ellisville, MS
---
February Tornado in Hattiesburg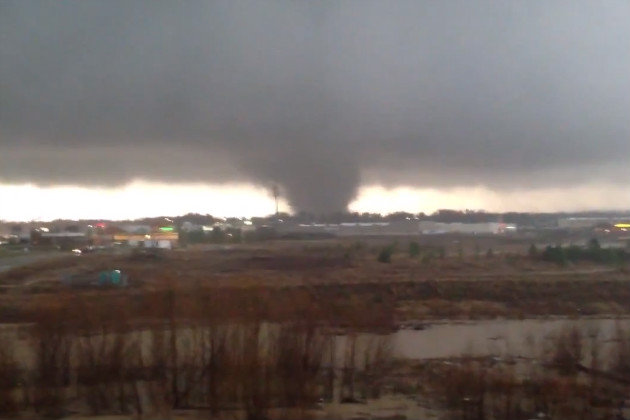 This is a photo of the tornado in Hattiesburg, MS about 4 p.m. Sunday afternoon, February 10, 2013. This photo is looking south from West 4th Street in Lamar County. From the National Weather Service Survey Team out of Jackson, MS, the tornado in the Hattiesburg area was an EF-4 with winds of 170-mph. The rating is based on damage found near Oak Grove in Lamar County. The tornado stayed on the ground from Columbia, MS all the way through Petal, MS, barely missing my daughter and her family's house. Nobody was killed by this tornado!
---
***Notice*** I request a SASE for all WAS/VUCC card requests! I receive a lot of cards every day. DX cards are ok direct with a SASE, via the bureau, or I am 100% on LOTW!

I enjoy contesting and DXing. I have operated from several DXCC entities and enjoy going on DXPeditions. If you want to check to see if you are in my station log or contest logs, then click on the "Ham Radio" menu option and enter your callsign under "N5PA Log Inquiry".

I have been a ham most of my life and I am a Life Member of the ARRL. I moved to Jones County from Edmond, Oklahoma in November 1999. I moved to my current QTH just outside Ellisville, MS in April 2007. I started over on my DXCC and other awards after getting back on the air in January of 2000. I now have 316 countries confirmed and 1,570 DXCC Challenge countries and I have my 5-Band DXCC. I have DXCC on 80 through 10 meters and I am mainly working on 160 and 6 meters now. I have my WAS and my VUCC. I live in the Northwest corner of Grid Square EM51jo.

I have three main hobbies, Astronomy, Ham Radio, and Weather. I enjoy all facets of astronomy and have learned a great deal from my fellow observers. Whether deep sky objects, binaries, or planets, I always am amazed by the view.

My interests in Ham Radio are mainly Contesting and DXing. My favorite modes are CW and RTTY. I have been on DXpeditions and Contest DXpeditions and feel that contesting makes a better operator, especially during emergency operations.

I have a Davis Vantage Pro 2 Wireless Weather Station and have a lot of fun integrating the weather station with the web page.

Hope to work you on the bands! Good DX! Good Seeing! Clear Skies!


---
December Tornado in Jones County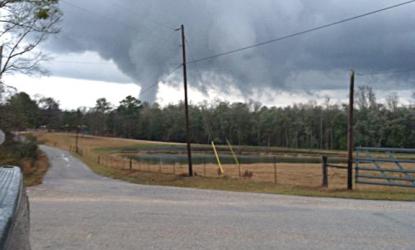 Jeremy Strickland captured this photo of a tornado in the Myrick community in Jones County, MS about 4 p.m. Sunday afternoon, December 9, 2012. Although there were no warnings in the area at the time, National Weather Service teams surveyed the area and called it an EF-0 Tornado with 85 MPH winds with a 50 yard wide path.
---