Alan Clark, N5PA
Ellisville, MS
***Notice*** I request a SASE for all WAS/VUCC card requests! I receive a lot of cards every day. DX cards are ok direct with a SASE, via the bureau, or I am 100% on LOTW!

I enjoy contesting and DXing. I have operated from several DXCC entities and enjoy going on DXPeditions. If you want to check to see if you are in my station log or contest logs, then click on the "Ham Radio" menu option and enter your callsign under "N5PA Log Inquiry".

I have been a ham most of my life and I am a Life Member of the ARRL. I moved to Jones County from Edmond, Oklahoma in November 1999. I moved to my current QTH just outside Ellisville, MS in April 2007, but I was basically off the air from March 11, 2007 until August 29, 2013, with a few in between. I started over on my DXCC and other awards after getting back on the air in January of 2000. I now have 318 countries confirmed and 1,596 DXCC Challenge countries and I have my 5-Band DXCC. I have DXCC on 80 through 10 meters and I am mainly working on 160 and 6 meters now. I have my WAS and my VUCC. I live in the Northwest corner of Grid Square EM51jo.

We also have a farm in Southwest Mississippi that is 8 miles North of Meadville, MS in Franklin County. I have a small station set up there and will continue to work to improve it. Most of my operations since August 29, 2013 have been from our farm. It is in the Soutehwest corner of Grid Square EM41no.

I have three main hobbies, Astronomy, Ham Radio, and Weather. I enjoy all facets of astronomy and have learned a great deal from my fellow observers. Whether deep sky objects, binaries, or planets, I always am amazed by the view.

My interests in Ham Radio are mainly Contesting and DXing. My favorite modes are CW and RTTY. I have been on DXpeditions and Contest DXpeditions and feel that contesting makes a better operator, especially during emergency operations.

I have a Davis Vantage Pro 2 Wireless Weather Station and have a lot of fun integrating the weather station with the web page.

Hope to work you on the bands! Good DX! Good Seeing! Clear Skies!


---
---
January 28, 2014 Ice/Sleet/Snow Storm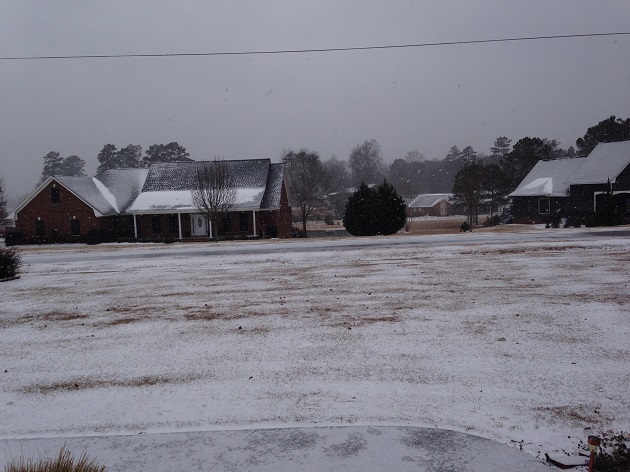 South Mississippi encountered an Ice/Sleet/Snow Storm on January 28, 2014. We had about an inch of ice and sleet during the day before the snow got here. It was cold enough at ground level for it to snow, but the upper layers had not gotten below freezing, thus we had ice and sleet for most of the day. About 4:00 p.m. the snow started at my house and we had about an inch or more of snow on top of the ice and sleet. The winter precipitation stopped around six that evening and the temperature got down to 15 degrees that night. The next day temperatures were still below freezing and the roads were sheets of ice and extremely dangerous. All the schools and businesses were closed because of the icy roads on Wednesday. Wednesday night it got down to 11 degrees, but most of the ice had evaporated from the roads late on Wednesday from the Sun coming out. But on Thursday morning the businesses started to open, but not the schools, it was very cold and there were still patches of ice, especially in the shade. I went up Graves Road towards Highway 84 and encountered a large patch of icy roads that was on a hill that was going down and around a curve at the same time. It was a patch about 100 yards long and I was able to coast across it in my 4-wheel drive truck without any problems. In a few minutes four vehicles slid off the road and wrecked at this same spot. But it is forecast for 48 degrees on Thursday with bright Sunshine. So the ice should melt!
---