Updated:

@

24-Oct-2014 4:30am - next update at 4:35am

Summary / Temperature
Wind
Rain
Outlook

Clear

48.9°F






Cool



Feels like:

49°F





Today
Yesterday
High:

53.5°F


12:00am
71.2°F
3:06pm
Low:

48.9°F


4:29am
44.3°F
4:55am

NW




0.0


Gust:


0.0 mph

0

Bft -

Calm

Today:

4.0 mph

1:06am

Gust Month: 30.0 mph October 2

Rain Today:

0.00 in

Rain Rate (/hr):

0.00 in

Rain Yesterday:

0.00 in

This Month:

2.29 in

Season Total:

45.68 in

11 days since last rain.

Tonight


Clear


Humidity & Barometer
Almanac
Moon

Humidity:

86

%
Dew Point:

44.9°F

Barometer:

30.101 inHg

Baro Trend:

Steady

| | |
| --- | --- |
| Sunrise: | 7:07am |
| Sunset: | 6:15pm |
| Moonrise: | 7:44am |
| Moonset: | 6:58pm |

New Moon
1%
Illuminated

UV Index Forecast
Solar Radiation
NWS Weather Forecast - Outlook: Today & Tonight
Today


Sunny

Hi

77 °F

NWS forecast: Sunny, with a high near 77. Calm wind becoming north around 5 mph in the morning.
Davis VP+ forecast:

Increasing clouds with little temperature change. Precipitation possible within 24 to 48 hours

Tonight


Clear

Lo

46 °F

NWS forecast: Clear, with a low around 46. Calm wind.
Today


Sunny

Tonight


Clear

Saturday


Sunny

Saturday
Night

Clear

Sunday


Sunny

Sunday
Night

Clear

Monday


Sunny

Monday
Night

Mostly
Clear
Tuesday


Mostly
Sunny
Hi

77 °F

Lo

46 °F

Hi

80 °F

Lo

52 °F

Hi

84 °F

Lo

52 °F

Hi

83 °F

Lo

58 °F

Hi

82 °F
---
January 28, 2014 Ice/Sleet/Snow Storm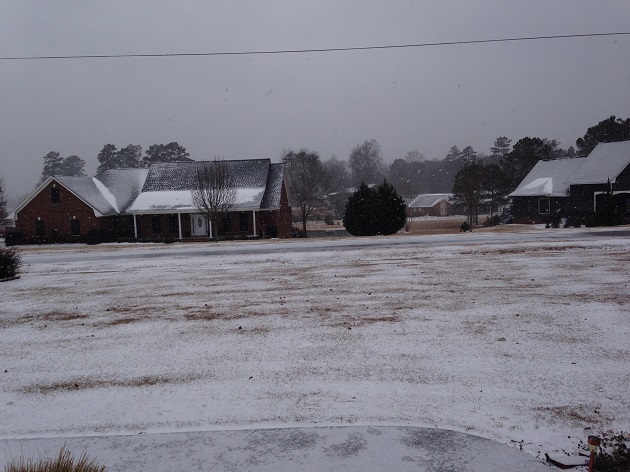 South Mississippi encountered an Ice/Sleet/Snow Storm on January 28, 2014. We had about an inch of ice and sleet during the day before the snow got here. It was cold enough at ground level for it to snow, but the upper layers had not gotten below freezing, thus we had ice and sleet for most of the day. About 4:00 p.m. the snow started at my house and we had about an inch or more of snow on top of the ice and sleet. The winter precipitation stopped around six that evening and the temperature got down to 15 degrees that night. The next day temperatures were still below freezing and the roads were sheets of ice and extremely dangerous. All the schools and businesses were closed because of the icy roads on Wednesday. Wednesday night it got down to 11 degrees, but most of the ice had evaporated from the roads late on Wednesday from the Sun coming out. But on Thursday morning the businesses started to open, but not the schools, it was very cold and there were still patches of ice, especially in the shade. I went up Graves Road towards Highway 84 and encountered a large patch of icy roads that was on a hill that was going down and around a curve at the same time. It was a patch about 100 yards long and I was able to coast across it in my 4-wheel drive truck without any problems. In a few minutes four vehicles slid off the road and wrecked at this same spot. But it is forecast for 48 degrees on Thursday with bright Sunshine. So the ice should melt!
---